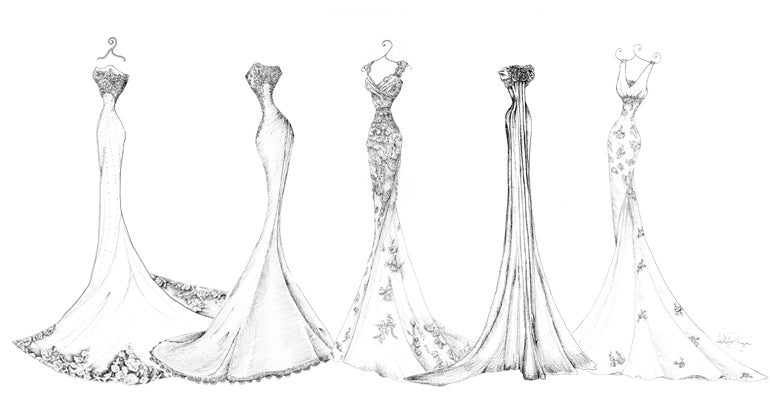 The Ultimate Guide to the Different Types of Wedding Dresses
When you're spending a lot of money on your dream wedding dress, you want to make sure it is perfect.
To help you ensure you're looking and feeling your best, you should become familiar with wedding dress silhouettes.
There are many types of wedding dresses which can be overwhelming. Start by going to a few different fittings, take a best friend with you and work out what suits you.
Then, shop around online to find inspiration for the style, dress silhouettes and wedding dress shapes you prefer.
In this article, we'll break down the most popular wedding dress silhouette options so you can go to a fitting knowing a little more about what's on offer. Let's get started!
To get the silhouette that you're looking for, you can always filter the style you want in the "Silhouette/Lines" category.
Beach or Backyard Wedding? Pick a Mermaid, Bohemian or Sheath Style
A mermaid dress isn't your classic choice but it is something a little different yet very elegant.
It became very popular in recent years and many brides who love their curves opt for this style. This silhouette does wonders for drawing attention to an hourglass figure. The Enzoani brand is known for their elegant mermaid gowns. Pronovias also has an extensive line of mermaid gowns as well.
With this dress style, you can opt for many ruffles or one layer for a simpler look. 
Bohemian (boho) dresses are also popular for beach weddings. They are typically light, flowy and whimsical. They offer effortless elegance and work perfectly with a flower crown!
Another similar style to boho is the sheath silhouette which has long, straight lines that follow the natural shape of the bride's body.
Transform into Cinderella with a Princess or Ballgown Style
Another very popular choice for wedding dresses is the Princess or Ballgown. However, with these styles, you need to be careful.
It can be very easy for this dress to look too much and be a little over the top. Of course, if this is the look you're going for then go you!
But, if you're trying to keep your dress looking a little more traditional, then make sure to try on a ballgown dress a few times and ensure it fits well.
This dress usually has a tight or fitted upper body and a full-length, flowing skirt. Choose a heart-shaped neckline for a classic, princess look.
Show Off Your Figure with a Sheath Wedding Gown
Although this word is more commonly associated with swords and knives, it's also one of the popular types of wedding dresses in recent years for outdoor weddings.
A sheath dress is straight cut and fitted. It is also a great dress for showing off your waist as certain sheath styles will emphasize this area of your body.
The long, sleek cut of this dress does make it a modern choice and very understated. It can offer a sexy or sleek vibe and the overall look is very polished.
Stay Cheeky with the Mini Wedding Dress
Do you have killer legs? Get them out on your wedding day! Many dresses are long and traditional, but this is 2020 and so doesn't have to be the case for you.
A mini wedding dress can be sexy, cheeky, girly, cool, androgynous, casual or completely unique to you.
The style can incorporate a shorter, ballgown skirt, or a close fitted sheath style. So long as it's short, it's a mini wedding dress silhouette!
Another popular style is a dress which starts shortly at the front and flares out longer at the back. There are many options as it's very versatile.
However, when your legs are out, there'll be more attention on your shoes. So, make sure to get something which you think looks great but is also comfortable for dancing!
Make Some Noise with a Trumpet Style Dress
This style is very similar to the mermaid silhouette but slightly more understated. The trumpet style hugs your body closely and slowly flares the further down the dress you get.
However, what makes the two dresses different is the fact that the trumpet dress will flare out at your mid-thigh. The mermaid, in contrast, will flare under the knee.
If you don't want to go full fishtail, consider this option instead. It's especially good for brides with ample breasts who want to balance out their silhouette.
If you prefer another less dramatic flare, you can try the fit and flare silhouette.
Still Not Sure? Try Out an A-Line
Similar to a ballgown style, the A-Line gown is often fitted at the top and flares out towards the bottom of the dress.
However, this silhouette is neither too heavy on the top or the bottom. Due to this, it is often the dress style which many shops encourage you to test out before any other.
But, why not try out the options you love the most first and then go for an A-line to compare afterward?
You might find that ultimately this is a great choice for a wedding dress as it's classic and flattering for all body types.
If you're getting married in winter, then adding sleeves to this dress will work well. An A-line dress even looks great with a deep v-neck or high neck.
As you can tell, there are many options for the A-line dress which is why many brides choose it.
Types of Wedding Dresses Made Simple
Once you've got your wedding dress chosen, you'll need to choose your shoes and accessories.
Are you currently looking for a dress? We have hundreds of types of wedding dresses to explore. You'll definitely find an option which is perfect for your big day.
Simply ask a professional seamstress to take your measurements to find your size and purchase the dress which suits you best.
PS. orders over $1,000 USD will receive free shipping!