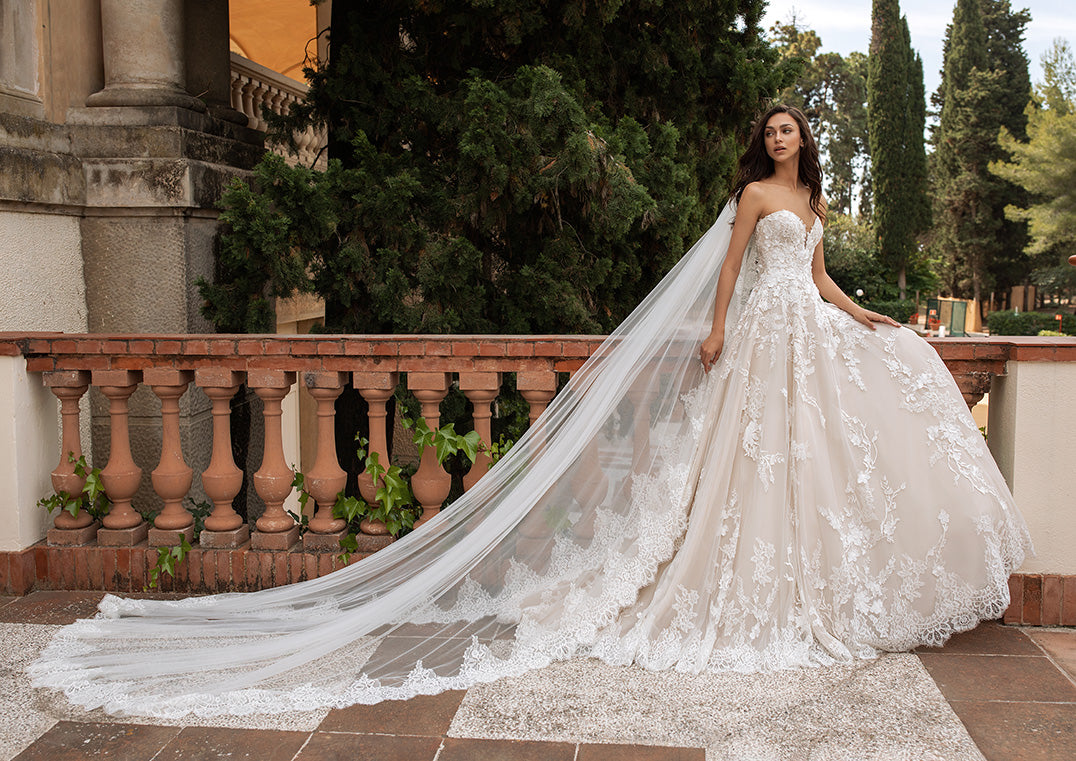 Train Line: The Wedding Dress Train That Works for You
In Medieval times, the longer the wedding dress train, the richer the bride's family. 
Today, the tradition of having a wedding dress with a train is not set in stone. Nor is it necessary to show off status and wealth. Many modern bridal gowns range from long trains to none at all.
Read on to learn all about wedding dress train lengths so you can make the right choice for you on your special day. 
Sweep Train
A sweep train is so named because it barely skims the floor behind the bride.
If you don't want to fuss with a train or worry about having to arrange it before every photograph, a sweep train is your best bet.
Sweep trains work really well with a mermaid or fishtail gown. Make sure that the style of dress suits your body type and you're good to go. 
Puddle Train
A puddle train is also called a court train. Think Morticia Addams and you'll know exactly what kind of train this is.
It's cute and not too fussy and works well with form-fitting dresses. If your body type is curvy and you want to show it off on your big day, choose a form-fitting wedding dress with a puddle train.
Panel Train
A panel train is a removable wedding dress train. It attaches to the dress at the waist with invisible hooks so that the train can be taken off for the reception and dancing. 
These trains are typically about a foot wide. You can make the panel as long as you wish. 
Watteau Train
If your idea of a romantic dress calls to mind images of Grecian goddesses, the Watteau train is ideal for you.
This type of train attaches to the strap of a gown and flows out behind the bride. If you decide on a strapless gown, the train begins at the top of the back of the dress. 
The great thing about the Watteau train is that it can also just touch the floor. You don't have to have a train that extends past your dress at all with a Watteau train.  
This is one wedding dress with a train that can be quite bold if you choose to use a long train.
Chapel Train
When you picture a traditional wedding dress with a train, you're probably imagining a chapel train.
This type of train is generally around a meter and a half long. You'll need someone to arrange your train for photos and for dancing. But you'll be able to walk down the aisle without anyone holding your train. 
Cathedral, Royal or Monarch Train
Long trains are called by many names. Cathedral, royal, monarch.
They all exude thoughts of opulence and grace. If your idea of a wedding train is Princess Diana's then you'll want this type of train that can easily reach six feet. 
Bottom Line on Wedding Dress Train
As you can see, there are lots of options to choose from when selecting your wedding dress train.
It's your day. You should choose exactly the type of train (and dress) that is going to make you happy.
Need some inspiration? Check out the wide variety of wedding dresses available.